Lighting is a critical part of your bumper. There are considerations of snow and fog conditions, high speed driving, city vs. off-road, search and exploration, light source – halogen, HID, LED, and budget. BUCKSTOP offers a variety of solutions for all lighting needs. The STANDARD configuration is one pair of built-in 6" round lights. The information below shows additional light-mount options available on most BUCKSTOP bumpers.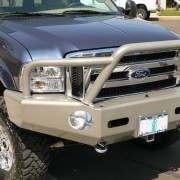 Standard Lighting
EVERY BUMPER COMES READY FOR A PAIR OF 6" ROUND LIGHTS
Note: The bumper comes with universal mounts for single post bottom mount lights. Factory lights will NOT mount directly into the bumper. In most cases the factory wiring harness and dashboard switch can be used to run aftermarket lights.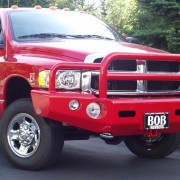 ADDITIONAL LIGHTING - $125
BUILT-IN RECESSED LIGHT BUCKETS – Add one more pair of 6" or 4" lights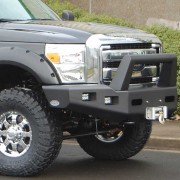 DUAL RIGID LED LIGHTS - $125
Recessed Mounting for two pair of Rigid "E" Series 4" Light Bars. Requires "U" Cradle Mount. No charge!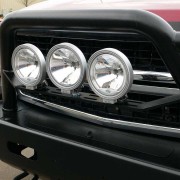 GRILL GUARD MOUNTING - $125
Cross bar for Baja Style Grill Guards – Add 2, 3 or 4 lights.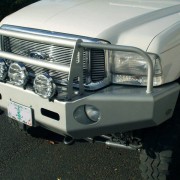 BOLT ON LIGHT BAR - $110
Attaches to top of bumper. Add 2, 3 or 4 lights.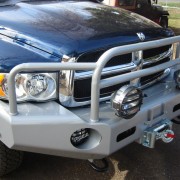 TOP MOUNTING - No Charge
Drill your own holes to mount your own lights. Note: Drilling and mounting performed by customer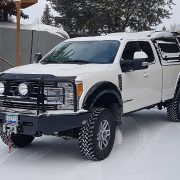 NO LIGHTS - No Charge
Eliminate light openings entirely to have a solid wing face.