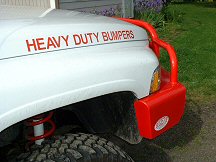 BUCKSTOP™ Truckware is a full-faceted manufacturing and engineering company that makes heavy duty winch bumpers for Dodge, Ford, Chevy, GM, Nissan, Toyota Trucks, Vans and SUVs.
All products are made 100% in-house. The manufacturing facility, located in Central Oregon includes everything from laser burning to tube bending through powder coating. Buckstop products are available in a multitude of configurations and designs based in inspiration from heavy equipment production and heavy fabrication.
The founders are engineers with degrees in Mechanical and Industrial Engineering. They have put together a winning package balancing high-quality, consistent products, the aesthetic requirements of smooth-lined new trucks, on-time delivery, and easy installation. The result is a bumper that will serve its owner well for years to come.
The story began in the winter of 1994 high up in the mountains of Oregon, way down at the bottom of a logging landing, with three feet of snow accumulation and nightfall coming on quickly.
At the time, it was a four-cylinder Toyota pickup and a Nissan pickup, a bunch of guys and gals, and a steep climb out. Going down the curvy road to the bottom of the landing seemed easy enough. "Come on down - it's no problem!" (famous last words). But climbing out proved impossible for the next several hours. By then the darkness had come on strong, along with a ton more snow. (Its about that time when that eerie feeling creeps over you and you know "This is for real!" You've been there….)
Finally, with enough people in the bed of the truck and a couple hanging out on the front bumper adding a little bounce, the climb was conquered and a memory was written.
Of course, the next step was to get a winch and winch bumper (what are Mondays for anyway?). The market for Toyotas was quite thin at the time, so two enterprising engineers set out to make a Toyota winch bumper. The result was excellent and an idea was born.
BUCKSTOP™ is what you want in a company - a company that simply does things right, treats people right, and keeps business easy and fun - the way it should be.
We appreciate your business. Please feel free to send us an e-mail or give us a call at 1-800-431-6978 with any questions you might have.