The Buckstop Single Wheel Conversion is an engineered kit with each component integrated to acheive as close to OEM structure as possible while converting from dual rear wheels to four single tires. The purpose of the Conversion is for greater off-road traction and performance without compromising weight carrying capacity. At the core of the kit are 41" tires with 6700 pound capacity each. Clearance for the big tires is achieved with a small suspension lift and large cut-out fender flares to keep the center of gravity as low as possible. The wheels are reversible and interchangeable front to rear for proper tire rotation. Track width is roughly 92" at the outside and consistent front to rear. Fender Flares are an itegral part of the kit providing complete tire coverage from road spray and also replacing and covering parts of the body that are cut away for tire clearance.
Features
Load Testing
41" tires and 10,000lb payload are the fundamental elements of the Single Wheel Conversion. At Buckstop, the chassis is fully loaded with 10,000 lbs and subjected to extreme articulation and turning conditions to determine suspension and body modifications required for tire clearance.
Suspension
Key components of the Buckstop Suspension Kit are replacement Radius Arms, Coils Springs, and Heavy-duty Track Bar Mount. These pieces maintain proper, original steering geometry. Performance is enhanced with Buckstop's Heavy Duty track bar mount fabricated from 3/8" steel. INCLUDED WITH BASE KIT.
Fender Flares and Body Modification Kit
In order to neatly fit the monster 41" tires under the body, the internal frame, fender, and body require cutting and trimming. Buckstop's uniquely designed 8" wide fender flares are a special part of the puzzle that cover the cut-out portions of the body and also completely cover the tire from road spray. The flare is a one-piece design including a return inner wheel liner that integrates with the OE liner. Behind the headlight, a major piece of the inner frame structure must be removed for tire clearance. Buckstop provides a replacement structure that bolts into place allowing room for the tire – no welding required. INCLUDED WITH BASE KIT.
Wheels and Tires
Tires: With a 19,500lb GVW, rear axle capacities approach 14,000lbs requiring a tire capacity up to 7,000lbs each. The 335/80R20 is the perfect choice - a "military" style radial tire with excellent handling characteristics under load. It has an off-road tread pattern and can be aired down to match different loads. Tire noise is acceptable at a level equivalent to a standard truck mud tire.
Wheels: The military tire has a higher shoulder than light-truck street tire. A typical street, light-truck wheel will not fit the tire properly and carry the weight. Buckstop manufactures wheels that are designed for the load and the military tire. They track in-line front to rear compensating for the difference in front and rear axle widths of dually trucks. The wheel is single piece construction without extra bolt flanges, spacers, and bolts. Weight capacity is acheived through a heavy-duty rim made from ¼" thick material. Tires can easily be rotated front to rear for even wear without dismounting the tire from the rim. 5 WHEELS AND TIRES ARE INCLUDED WITH BASE KIT.
Bumper
Topping off the truck is an extra-wide bumper compensating the increase in front track width. The bumper extends past the fender flares to fend off fence posts, trees, and other obstacles jumping out along the way. At the heart of the bumper are the same features found on standard Buckstop bumpers including winch mount, tow hooks or mount points, trailer receiver, latching winch access door, built-in light mounts, and several options for built-in sirens, speakers, and monitor. INCLUDED WITH BASE KIT.

Running Board Steps
The truck ends up 7-1/2" higher than stock considering suspension lift and larger tire diameter. This makes accessing the cab a challenge! Buckstop has designed a custom set of Running Board Steps for Conversion trucks that bring the rig back down to earth. The steps are both broader and lower than standard steps. After climbing in and out of the truck a few dozen times, drivers will appreciate the extra boost they get from lower steps. Steps are NFPA compliant using "Fire Tread Plate."

Underside Protection
Undercarriage protection is available with Radiator, Transfer Case, and Transmission Skid Pans designed to keep branches and debris from damaging the underside of the vehicle. These pieces are heavy-duty construction and fit tightly to the underside with minimal loss of ground clearance. These pieces are not included with the base kit.
Lighting is a critical part of your bumper. There are considerations of snow and fog conditions, high speed driving, city vs. off-road, search and exploration, light source – halogen, HID, LED, and budget. BUCKSTOP offers a variety of solutions for all lighting needs. The STANDARD configuration is one pair of built-in 6" round lights. The information below shows additional light-mount options available on most BUCKSTOP bumpers.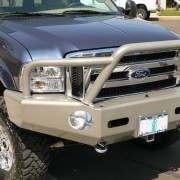 Standard Lighting
EVERY BUMPER COMES READY FOR A PAIR OF 6" ROUND LIGHTS
Note: The bumper comes with universal mounts for single post bottom mount lights. Factory lights will NOT mount directly into the bumper. In most cases the factory wiring harness and dashboard switch can be used to run aftermarket lights.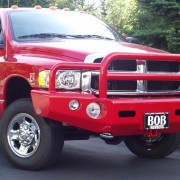 ADDITIONAL LIGHTING - $125
BUILT-IN RECESSED LIGHT BUCKETS – Add one more pair of 6" or 4" lights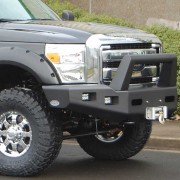 DUAL RIGID LED LIGHTS - $125
Recessed Mounting for two pair of Rigid "E" Series 4" Light Bars. Requires "U" Cradle Mount. No charge!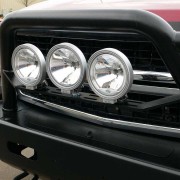 GRILL GUARD MOUNTING - $125
Cross bar for Baja Style Grill Guards – Add 2, 3 or 4 lights.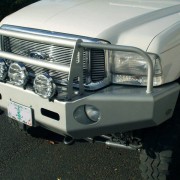 BOLT ON LIGHT BAR - $110
Attaches to top of bumper. Add 2, 3 or 4 lights.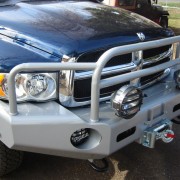 TOP MOUNTING - No Charge
Drill your own holes to mount your own lights. Note: Drilling and mounting performed by customer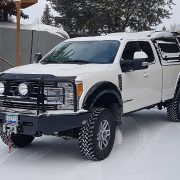 NO LIGHTS - No Charge
Eliminate light openings entirely to have a solid wing face.
Choice of Three Materials
Buckstop Bumpers are built to be used and abused. The bumper is fully intended to protect the vehicle through an optimal balance of strength and weight. Buckstop Truckware is a full engineering and manufacturing facility with all operations in-house. Custom designs are available as well as special materials. Buckstop works in standard carbon steel, aluminum, and stainless steel.
CARBON STEEL
The main-stay of Buckstop's heavy-duty, high strength top quality Bumpers
Carbon is the basic steel from which most things including most bumpers are made. It is very difficult to dent in animal strikes and resilient in other collisions. Buckstop bumpers for full sized rigs are 1/4″ steel in the primary impact zone and winch center and 3/16″ steel under the headlights. Half ton full size vehicles are 3/16" throughout.
The advantages of Carbon Steel are low cost and its ability to absorb impact.
A typical 3/4 ton full-sized bumper with grill guard weighs approximately 220lbs.
ALUMINUM
Light-weight aluminum engineered to maintain Buckstop's tradition of brute strength
Aluminum is a favorite choice in cases where weight is critical. To maintain Buckstop's standard of strength, the aluminum bumpers are 3/8" thick in the primary impact zone and winch center and 1/4″ steel under the headlights. The geometry and gusseting is enhanced as well. The aluminum bumpers use steel mounting to the frame and steel Grill Guard tubing where the bumper is especially vulnerable. In addition, the 2" trailer receiver is a steel bolt-on configuration. It could easily be made lighter, thinner, and without so many features, but it comes at the cost of strength.
The advantage of aluminum is a weight savings of 90lbs over steel and a resistance to corrosion.
Finish – the aluminum bumpers are powdercoated just like steel.
A typical 3/4 ton full-sized bumper with grill guard weighs approximately 130lbs.
STAINLESS STEEL
Maximum strength. Maximum corrosion resistance.
Stainless steel is a higher strength material than regular steel that will essentially never rust.
The advantage of stainless steel is excellent resistance to corrosion.
Finish – the stainless steel bumpers are powdercoated just like steel.
A typical 3/4 ton full-sized bumper with grill guard weighs approximately 220lbs.
WINCH SELECTION – Buckstop bumpers are built for most 4-1/2″ x 10″ bolt pattern winches. There is ample access to the winch controls and cable through the 28″" access opening on top of the bumper. Winches can be mounted foot down or foot forward. Buckstop offers a selection of WARN winches matched to an assortment of needs encountered by our customers. When selecting a winch, consider how often you will use it and the demands of the situation (long pulls, difficult terrain, etc). Two ""sport"" winches are offered including the popular air-compressor winch combo and the light-weight Zeon series.
These winches will NOT work: Warn VR EVO, Ramsey RE Series worm drive, Superwinch, and all Megawinch.
Powder Coat colors include full sandblast, phosphate wash, two-coat – primer and top coat – baked on industrial powder coating. STANDARD COLORS: STEEL GREY and BLACK – Standard.
BLACK – Hammertone (Standard choice)
Large texture, slippery finish, easy to clean. Mini-tex – fine texture, matte finish
STEEL GREY – Standard
SPECIALTY COLORS +$125
CUSTOM METALLIC COLORS include primer, color, AND clear coat +$190 to $250
TWO TONE – BUCKSTOP EXCLUSIVE! + $100
There are no reviews for this item yet.
Write a Product Review